The Stamford Connections project was run by Art Pop-Up, in partnership with MindSpace from May to October 2021, carrying out research into what brings the Stamford community together and makes it strong. We wanted to know where connections exist, how they happen and what they mean to the community.
Connections with other people are important for positive mental health, they are the strands that tie our community together. So this project asked the question "How do you connect in Stamford?".
---
The research
A community engagement team spent six weeks conducting interviews and chatting with a broad range of people in the community about their experiences in Stamford. They talked with over 150 people conducting in depth interviews about their connections.
One thing that stood out from the research was the sheer number of assets the community has – there were 233 individual places, activities or groups mentioned in the interviews. Stamford people are active people, with 92 mentions of sport or other physical activity and 64 mentions of places where people like to walk. Stamfordians are also creative, with 97 mentions of creative activities. And they appreciate a nice drink or a bite to eat, with 75 mentions of cafes, restaurants and pubs.
From the research, the team also identified 10 key connectors – places, activities and groups that people mentioned frequently during the interviews:
• The allotments
• The churches
• The Corn Exchange
• Stamford Library
• Mindspace Stamford
• The Recreation Ground and Skate Park
• Stamford Arts Centre
• Second Helpings
• #ShopStamford and independent retailers
• Stamford U3A
Read the full reports:
---
Artist's residency & workshops
Local artist Kelly Barfoot worked with Stamford residents to make an imaginative display of 100 handprints, demonstrating the many connections that are so integral to Stamford life.
Using the historic cyanotype printing process which is the origin of the blueprint used by engineers and architects, locals were invited to make a cyanotype handprint in a number of workshops held by Kelly at the Arts Centre and MindSpace during the project. Kelly also held pop-up workshops with the Year 5 pupils at the Bluecoat School and a workshop at Second Helpings at Barn Hill Methodist Church.
As well as the 100 Hands, Kelly worked with several of the key connectors to produce a series of large abstract cyanotype portraits, created in outdoor performative art experiences, bringing to life the stories of how many of our local connections are made.
---
The exhibition
The resulting artwork '100 Hands' was exhibited at the Arts Centre from 15 July to 2 August with over 1000 people visiting.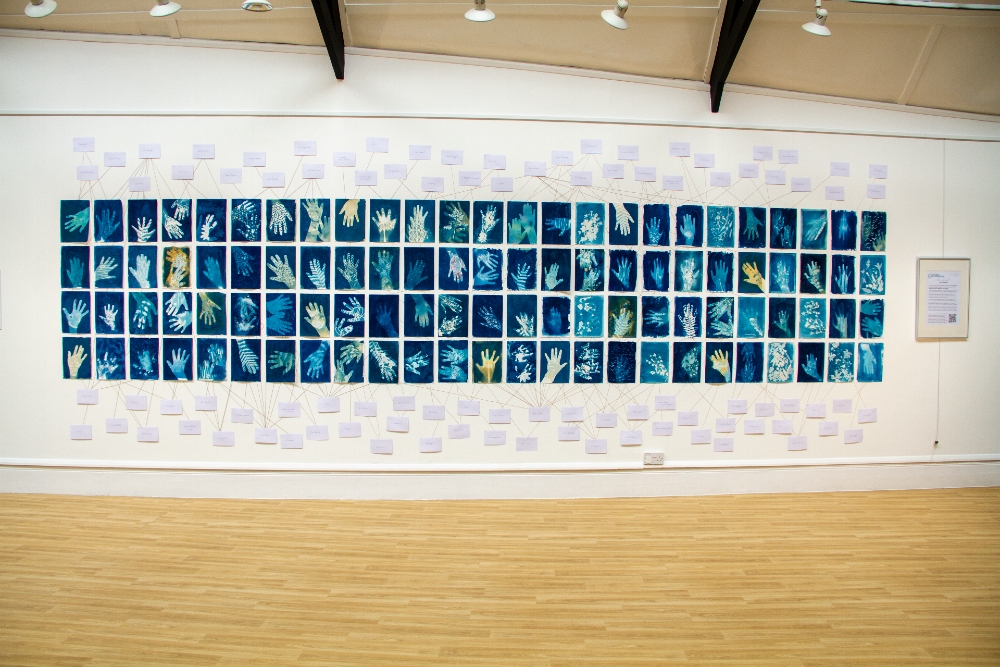 ---
The project was supported by investment from Lincolnshire's Mental Health Promotion Fund (Lincolnshire Partnership NHS Foundation Trust and Lincolnshire County Council).