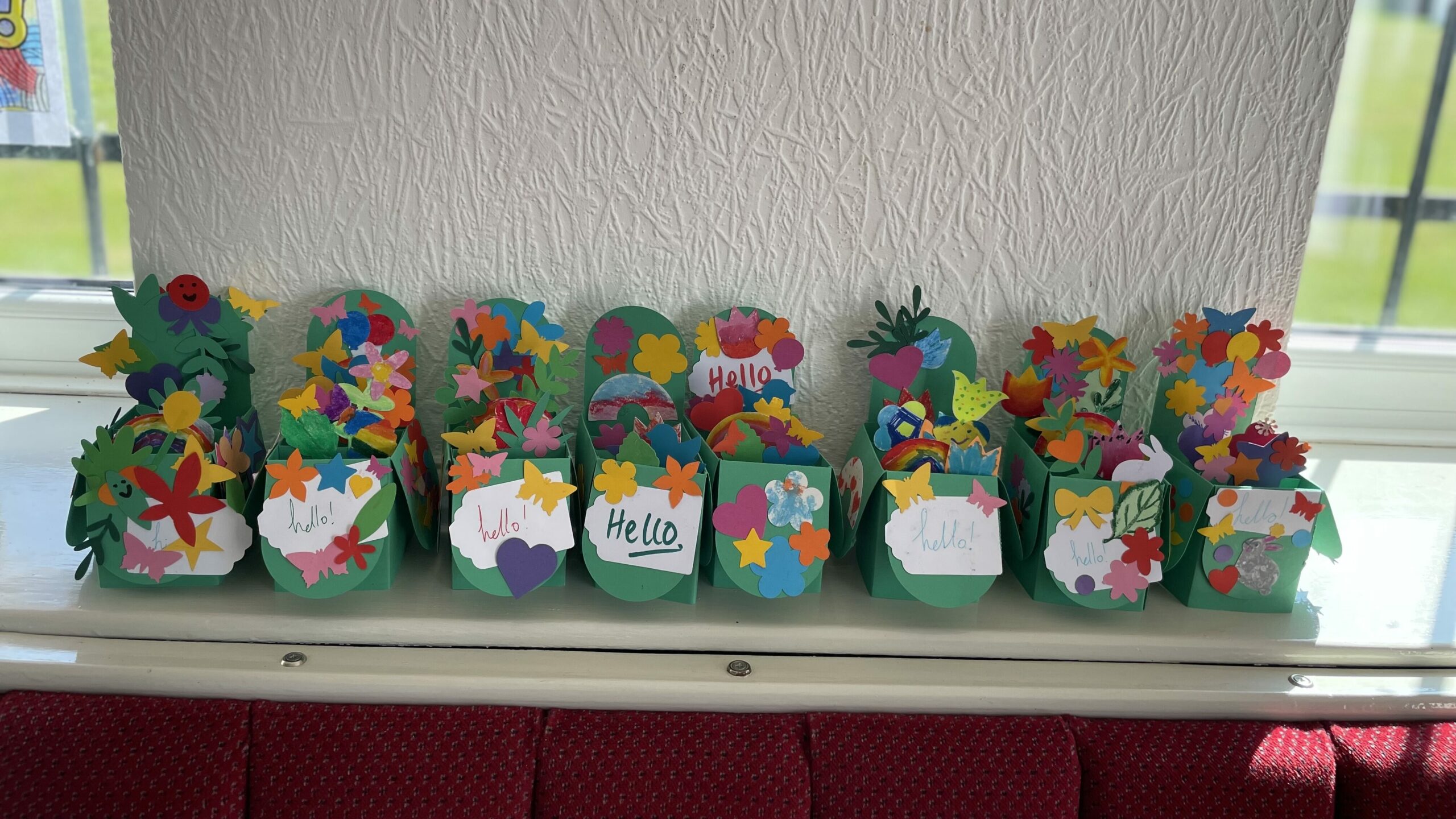 The Cheer Circle is a series of making and gifting workshops to connect communities, provide opportunities to give a little back and get a little too.
6 Community groups will each work together to create a set of beautiful gifts which once finished, will be delivered to another of the community groups, while in return, they will receive their own gifts from an other group! It's a circle of cheer and crafty goodness!
Starting in April 2023 and running through to March 2024, the groups take part in a new making session every other month, and in between we share news and pictures from each group in a newsletter to see how their gifts were received!
No one has to be creative or crafty to take part – the making sessions are led by Art Pop-Up Artists who will help everyone to do a little bit of the job; sticking, cutting, adding colour… and then all the hard work will come together as finished gifts!
Each session teaches a new craft or activity, and if that doesn't sound like enough fun, we hosted a Cheer Circle Summer party where all the participants from each community group can meet! and we'll do the same again in the winter!
Being part of the Cheer Circle aims to make a positive impact in our community as well as on everyone's own well-being!
The Cheer Circle is funded by the Lincolnshire Mental Health and Wellbeing Community Investment Fund.
The 6 Groups taking part
Vision Day Service
Vision is a Day Service and Supported living service for adults with learning disabilities.
Their aim is to promote inclusion, respect, friendship, and fun!
Blue Bird Care
Blue Bird Care specialise in working with customers and their families who require care in their own homes. They offer a unique service of personalised care options from check-in visits to full live-in support.
White Friars Care Home
Whitefriars Care Home offers friendly and compassionate residential and dementia care for up to 56 residents. The home is situated in a quiet residential location, close to the historic centre of Stamford.
St Augustine's Primary School
St Augustine's Catholic Voluntary Academy is a school built on Christian values, with a commitment to high expectations for all. St. Augustine's aims to educate the whole child; mind, body and soul. They help each child to discover and develop their own unique gifts and talents, so that they may live life to the full.
Malcolm Sargent Primary School
Malcolm Sargent Primary school in Stamford aims to provide the best all round education for children. Collectively, their approach is called "The Malcolm Sargent Way" and is centred on three core values, Engage & Inspire, Nurture & Growth: Pride & Joy
Christchurch Community Group
Christchurch community group are a group of ordinary people who believe that church is a great place to make friends and experience God together. Christchurch is a family who believe that church should not only be great fun but also a place where lives are radically transformed.
Our Summer Cheer Circle Community Party
Our first Cheer Circle Community Party was a great success! With lots of party food and refreshments generously donated by Tesco, Stamford and George's Food Hub.
We had crafts, and entertainment and music! We were delighted to welcome Dan the Piano Man to play for us throughout the event, and David the Magician who Wowed us with magic tricks as well as creating some wonderful balloon models too!