Following our summer of Youth Outreach sessions at The Shack, the young people requested a skateboarding/scooter contest so Art Pop Up hosted a free SKATE & PAINT event – with a live Paint jam on September 24th at the Stamford Skatepark on the Rec.
With over 250 people attending, the event was a resounding success with a free artist-led doodle 'Make Space' and skate decks to paint on, live DJ, artists painting live including several newcomers alongside Korp and Amanda Rigby plus free refreshments from George's Food Hub.
Organised in collaboration with Cllr Rhea Rayside, a very big thank to all those working with us to make this happen in just 3 weeks! Including James Kasey and Craig Woolley for so generously sharing all their essential skate knowledge and contacts and for judging alongside Finn, and Stamford Town Hall for all their help with expediting the red tape! The event was supported by Arts Council England, SYPC, Stamford Kiwanis and Frank Newbon with crowdfunding contributions from the local community.
Find some of the Artists painting at the Jam session here:
Molly – click to see their work
Korp – click to see their work
Amanda Rigby – click to see their work
Meet our Judges!
Here's a word from the folks turning out to judge the Scoot/Skateboarding Contest!
We're excited to be involved. Let's have a wicked day!"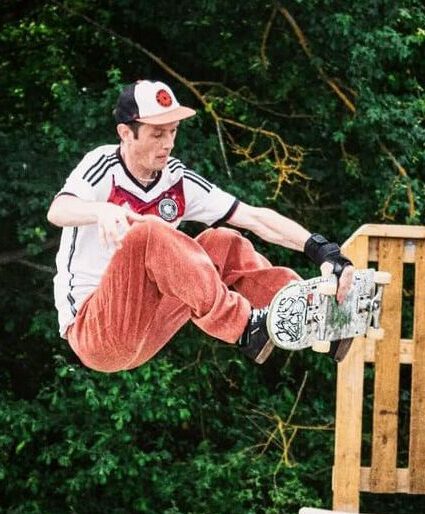 Hi. I'm James. 34 years old. Been skateboarding for roughly 25 of those years! I don't like to pen myself into one aspect of skating. I like to ride everything. Love blunt rags and frontside airs. If you would like any advice on how to do a certain trick, just let me know.
Hello I'm Craig, I'm 33, I've been skateboarding for 22 years, I'm a part time skate artist too. I prefer ramp skating to street skating but am not averse to hitting a curb now and again. My worst skate experience was snapping my kneecap in half 5 years ago! I've travelled across the country skateboarding and some of Europe too, for several years in a row I could be found with James skateboarding in Copenhagen.
Hello I'm Sam, 23 years old and been scootering for about 10 years. Love spending time at the skatepark with friends, learning new tricks and helping others learn. My favourite trick has to be a 360 whip.