A temporary gallery space was created for a gala event at Stamford Arts' Centre. Showcasing contemporary and conceptual art, the works explored the eccentricities that underscore our nation and the iconography that has grown to represent it. Pieces included original portraits of Ricky Gervais as Charlie Chaplin by internationally renowned photographer Jay Brooks, alongside works from 12 other artists. The event raised over £2K for the charity.
Artists
Alexander North Airey
Alexander is a multidisciplinary artist whose work includes cartoons, illustrations, portraits and murals as well as installation art and theatre work. His graphic drawings present a narrative insight, whilst his bold use of colour and composition choices define the work.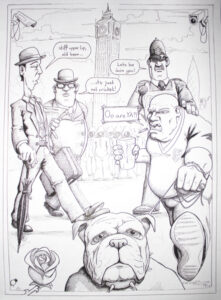 ---
Sheelah Mahalath Bewley
Sheelah works with found and gendered objects that reveal a detritus of irrelevant cultural assumption left over from the past. Through her discreet interventions she questions their current everyday meanings. She is intrigued by the visual code we accept as normal, unquestioned, for example why a suit embroidered with thin white stripes was considered to be correct wear for the office; why do women and even young girls wear high heels. Her work is often obsessive and repetitive suggesting the fear of non-conformity.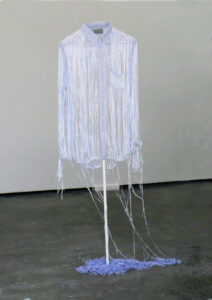 ---
Ed Brandon
Ed's photography explores a personal fascination for places forgotten, overlooked, abandoned or hidden – uncurated museums of the human condition which narrate a thousand otherwise-untold stories of faded fortune and melancholy, paens to a tattered empire that quietly awaits just a few steps off the beaten track. Composition is cinematic, in particular influenced by Kubrick's "detached" camera style with a passive and respectful gaze, presenting the scenes just as they were found.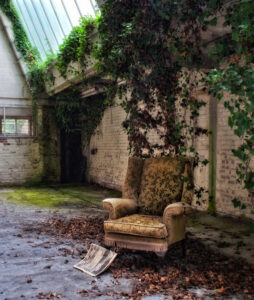 ---
Jay Brooks
Jay's photographic style and method of working displays a keen interest in choice of location, acute attention to detail, storyboarding and the use of props create unique environments for his portraits. His cinematic style and ability to draw a seam of, often dark, humour from his subjects has made him a popular choice across the worlds of advertising, TV, film, theatre and music.
---
Anita Bruce
Anita's sculptures are constructed in thread using simple elemental looping techniques, which are amongst the earliest practices of constructing fabric and practical objects, such as nets and baskets. They reflect Anita's interests in the archaeology and evolution of stitch. Simple stitches are the building blocks that create complex forms. The repetitions of stitch constructing a fabric from thread references the generations taken to create new species, the cell-like network representing the complex connections that balance the natural world. The linear thread of the textile draws on the continuity of life, organised by the pattern of DNA.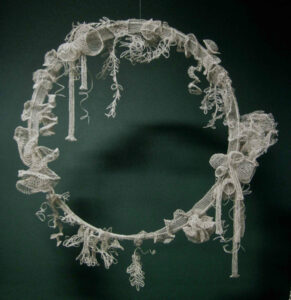 ---
Fi Burke
Influenced by Eastern Philosophies, Fi's work explores relationships with cultural existence, regardless of religion. Her work questions the stealth like way that language itself can form our belief systems, change perspectives, cover up or displace reality or reveal the truth. She often uses flour, bread or household items to explore how 'everyday perceived wisdom' such as proverbs can become habitual and 'ingested' as both thought and action.
---
Jason Duckmanton
Jason Duckmanton is a concept Illustrator who works with both traditional and digital tools. He enjoys mixing the macabre with the innocent to expose the fragile state of his characters while experimenting with expressive styles.
Recently Jason has been working on illustrations for a Scope funded charity project called "in the picture", which aims to represent disability in children's literature. He is also producing an illustrated children's book about a little boys desire to conquer his fears and become a monster hunter.
To see more of his work visit www.jasonduckmanton.com
---
Kelly Gardner
Kelly's work is concerned with time and memory, traces and absence. She uses textiles and found garments to convey these ideas, in particular those worn in rites of passage such as the christening gown; fragments of lace and imprints of garments evoke traces and residues of lost and forgotten things. Memories are fated to become selective, fragmented and faded, Kelly's work is in part a reflection of the need to capture and preserve the memory through the use of the 'keepsake'.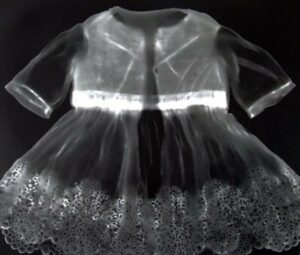 ---
Emma Johnson
Emma explores the fragmented, multifaceted nature of memory, time and history. She reconstructs maps into artworks, cutting paths and layers to transform the originals into reconstituted and complex new objects. As functional items, they are rendered virtually unreadable, but symbolically they suggest journeys (both geographical and artistic) and an almost obsessive attempt to communicate and pin down the streams of information and thought that characterise our lives.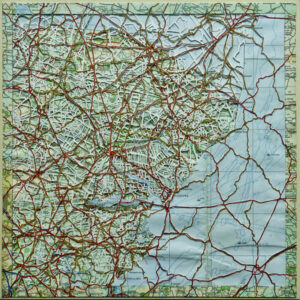 ---
Sam Roddan
Sam blurs still life and portraiture in her assemblages for 'Being British', collating objects that pertain to a literary or media character (Alice's teacups, Mary's umbrella), creating compositions that present and interrogate the iconography of the female role. Her work examines the societal narrative and the impossible incongruities of the middle class idyll, often revealing a darkness beneath the surface.
---
Sarah Dodkin Rush
Sarah focuses on the awkward engagement between the natural world and mankind. Using natural, recycled or discarded materials she highlights our often ambiguous relationship with the natural world, creating a dialogue of this symbiosis.
---
David William Sampson
Predominantly a ceramicist, David's work seeks beauty in the damaged. Working with aesthetic imperfections in objects and media, he often utilises 'defective materials' such as old wooden pallets, scrap metals alongside the clay which also in its purest form is dirty and useless in its natural environment.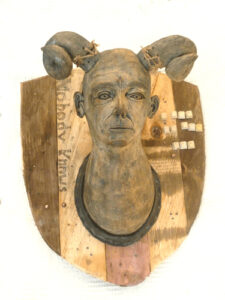 ---
Sue Shields
Sue is a painter and print maker. Primarily her work explores the patterns and forms found in nature, uncovering the hidden depths within the bigger picture. She includes stories taken from history but creates her own narrative.